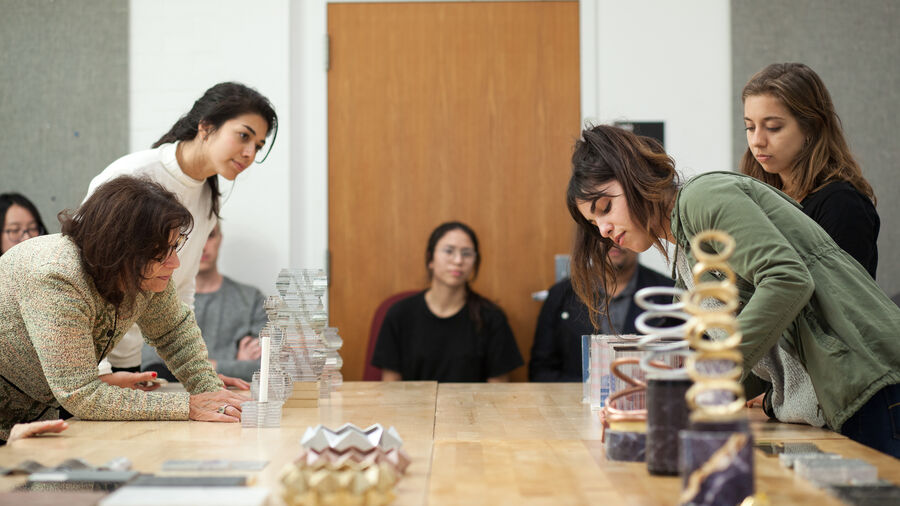 The undergraduate Design program offers students a rich, multi-faceted educational experience that prepares graduates for careers in design, professions with a design component or entrepreneurial endeavors.
Design should always be about solving a problem and creating new processes, products and services for people. Because design is human-centered and always supports the end-user's needs, both wants and limitations are explored at all stages within the design process and development lifecycle.
Students enjoy the extensive offerings of one of the world's great public universities, while receiving individualized instruction from expert, passionate faculty and local industry professionals in small cohorts. Students are immersed in various aspects of design and are able to create graphics, objects, interactions, systems and services.
A design education gives students the skills to push past obvious solutions and extensive experience working in diverse teams. Students learn how to be comfortable with ambiguity and how to navigate problems and design open-ended solutions with creative confidence. During their first year, Design students will work with students in the Department of Art and Art History through the department's AAH Core Program. All incoming Design, Studio Art and Art History students are required to take this set of courses to build core technical and conceptual proficiencies and prepare them for advanced study toward their degree.
As students continue in the Design program, studio-based courses develop their research, problem-solving and critical thinking/making skills, while elective courses and the university's core curriculum emphasize the liberal arts.
In their junior year, students must complete at least one professional internship (required as part of the B.F.A. degree). In their senior year, Design students undertake a capstone design project, and B.F.A. students show their work in a public exhibition at the Visual Arts Center.
Declaration Requirements
Show
Learn more about eligibility requirements for the Design major.
Things to Know Before Applying
Admission to the Design program is competitive and selective. When applying to this department, you are strongly advised to develop a backup plan for pursuing other majors. Use resources such as the Vick Center for Strategic Advising & Career Counseling and Wayfinder to determine what majors might be right for you
The maximum number of times a student may apply to the Department of Design is two. Applicants are strongly encouraged (but not required) to take Department of Art and Art History core courses at UT or transfer in course equivalents so you'll be on track for a timely graduation. However, AAH Core courses do not have to be completed prior to applying or being formally admitted to the department
All incoming students to majors in the Department of Design must have a laptop computer. Read more about the department's laptop requirement
Specializations
Show
B.F.A. vs B.A.
The Design B.F.A. (Bachelor of Fine Arts) is a pre-professional degree program encompassing typography, image creation/manipulation, interaction design and 3-D design that is intended to prepare students for employment in the field of design. B.F.A. students take approximately two-thirds of their undergraduate courses in Design and related coursework and culminate their studies by completing one or more paid professional internships. Additionally, B.F.A. students undertake a substantial capstone design project and present their work in an annual public exhibition. By choosing from a wide range of pre-approved supportive courses in fields across the university, B.F.A. students acquire not only the visual discernment and technical skills necessary to gain employment or admission to graduate school, but also the capacity for research, critical thinking, writing and speaking that enables them to rise to positions of creative leadership as designers, art directors, project managers, executives and entrepreneurs.
The Design B.A. (Bachelor of Arts) is an equally rich and rigorous exploration of design as a field, but is intended for students who prefer the flexibility and breadth of a liberal arts degree to the more studio-intensive, pre-professional B.F.A. degree. B.A. students acquire a solid foundation in design techniques, aesthetics, research methods, history and theory, while maintaining the flexibility to explore additional disciplines across the university. The B.A. degree's flexibility makes it a particularly good choice for external or internal transfers or students who want to add a simultaneous major. B.A. students enroll side-by-side with B.F.A. students in rigorous introductory design studio courses. In their final two years of study, B.A. students take fewer upper-division studio courses.
Skills
Show
Design majors develop technical, communication, artistic, and problem solving skills applicable to many areas of design. Specific skills developed by design majors depend to some degree on their creative interests.
Technology is both an important tool in design ideation and realization and a major and pervasive component of the fabric which constitutes contemporary culture. From this standpoint, students are asked to investigate a range of enabling technologies as they bear on culture and on the design process, and to question how technology affects their personal methodology. Although computers are used as a tool throughout the Design program, no course is specifically written to emphasize computers. Within the design area students have access to several well-equipped labs, each tailored to a specific technology. These are traditional letterpress printing, black and white photography, graphic arts photography, and the relatively new and constantly expanding digital technology. The skills learned are transferable to a variety of sectors and jobs.