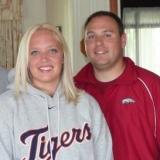 Sports Information Director @
Concordia University Texas
Sports Information Director (SID) is a job that is charged with promoting the athletics department. My job at CTX includes pitching stories to media about our teams, athletes and coaches, covering games, writing feature stories and updating the athletic Web site and social media pages. You can look at a college SID just like a PR director of a corporation, but with a few more side things going on.
How I Got Here
Show
Graduate degree(s): Currently pursuing a Master's degree in college student personnel.
Favorite class(es): Persuasive Communication
Changing majors:
Changed from Political Science to Communication during my Sophomore year.
Moving from college to career:
Luckily for me, I was hired on as the SID of the school I graduated from. Less than a month after my graduation I was offered the SID gig at Concordia-Ann Arbor by a new athletic director. I turned down several graduate assistant positions to take the full-time head job. My background and degree in communication has been a huge help to me. Now, I find myself broadcasting games, interacting with media members while pitching stories and writing stories constantly. I find myself relying on two things, the A.P. Stylebook and my notes from my senior year of persuasive communication to find new tactics to pitch stories.
Career influences:
My main influence was starting out as a student worker during my sophomore year in the SID office. Our school had just hired a new SID who was fresh out of college and seeing his energy and passion for the field really set me on a similar path. I already enjoyed watching sports and was interested in Web sites and communication, why not make it a living?
The Ups and Downs
Show
The big downfall of the job is the hours. At a small college, it's usually a one-person shop, which means you cover EVERYTHING. I find myself working 60-80 hours constantly. There have been weeks were it has been less, but for the most part I still find myself well over 60 because of the nature of the job, which means working from home at night. Coverage of your teams is out there, sometimes you have to work to find it.
Some of the biggest perks of the job include watching sports for a living. You help out the student-athletes because you are promoting them non-stop for academic and athletic purposes. You sometimes get to travel to cool places. I have been to Florida several times for spring break games and even Las Vegas for a tournament. One of the other cool things is helping out other SIDs. During the 2006 NCAA Division I men's basketball tournament, I served on the statistics crew at The Palace at Auburn Hills. Front row seats to the NCAA tourney!
Recommendations
Show
I wish I would have known I could have gained more experience in the world of sports info! Experience is EVERYWHERE. You can help out by being a public address announcer at a local college, high school or even youth league. You can also keep score or take pictures or even just run stat sheets between press row to media members. Just offer to do anything to get your foot in the door. And remember we always can use help at Concordia!
Interested in this Career?
Show
Learn more about careers in: