Communication Studies
Major in the Moody College of Communication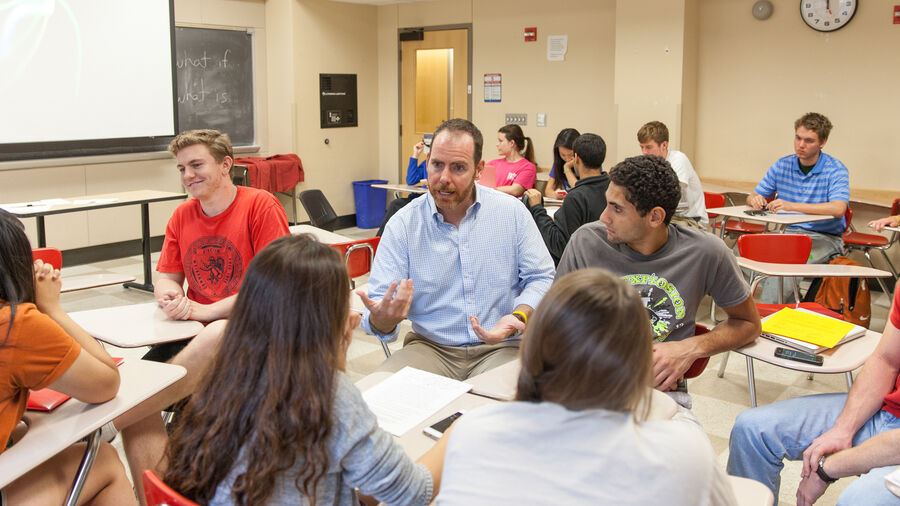 Trent Lesikar
Communication Studies (CMS) is the study of communication in relationships.
These relationships can range anywhere from interpersonal to organizational. CMS majors are given the skills and knowledge they need to apply to a variety of career paths. Each student is encouraged to decide what that career path may be through internships, career exploration, and interaction with faculty.

Special programs in the Department of Communication Studies include internships and research opportunities
Declaration Requirements
Show
Prospective University of Texas at Austin students should visit UT Admissions to learn about the application process and how to declare a major.
How to Declare
Show
Current UT students interested in transferring to the Moody College of Communication can learn more about application deadlines, requirements, and information sessions on the internal transfer website.
Required Courses
Show
View degree requirements and checklists to see the required courses for the Bachelor of Science in Communication Studies. For additional information, view CMS course descriptions and syllabi.

Students should understand that although CMS courses are not in a specific sequence, students are only allowed to take nine CMS hours each semester. Students must plan to be a CMS major for no less than two and a half semesters in order to complete the requirements of the degree.
Specializations
Show
Communication Studies requires that a student choose a specific track to fulfill their requirements. Each track provides a student with a coherent grouping of courses, supported by a variety of courses he or she selects to complete degree requirements. Any track chosen from these offerings prepares a student for careers in corporate work, law, politics, teaching, counseling, or any job involving interaction with people. Students can choose from Corporate Communication, Interpersonal Communication, or Political Communication.
Corporate Communication is a specialization in Organizational Communication that focuses on communication between and among individuals and groups in organizations, including corporate, non-profit, and governmental organizations. Organizational Communication is the study of human interaction within complex organizations, including leadership and organizational behavior. Research projects among the faculty have focused on the process of understanding the effects of power, time, and sequence on messages, and how the understanding of others and communication with them occur over information and communication technologies.
Interpersonal Communication is a specialization that focuses on interaction in a variety of human relationships and cultures. This includes both verbal and nonverbal communication, face-to-face communication, and intercultural communication.
Political Communication is a specialization in Rhetorical Theory and focuses on communication in public settings, including political communication, persuasion, and argumentation theory.
Personality
Show
Communication Studies majors are typically strong leaders, inquisitive, self-motivated, outspoken, and possess strong interpersonal skills.
Skills
Show
Ability to work individually and in collaborative groups
Interpersonal communication skills
Critical thinking skills
Ability to adhere to deadlines