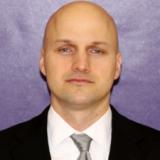 Coach/ Associate Athletic Director @
Concordia University Texas
There are two areas of focus in my current position as Head Men's Basketball Coach and Associate Athletic Director for Compliance. One is to oversee and direct the men's basketball program at Concordia University Texas. The other responsibility I have is to make sure that our athletic department is functioning within the boundaries and guidelines of the NCAA governing body.
How I Got Here
Show
Graduate degree(s): Interdisciplinary Studies - Education, Sports Administration, and Public Relations.
Changing majors:
From Public Relations to English
Moving from college to career:
When I finished my master's degree, I worked for a year at Texas Tech doing radio for the men's basketball team. From there I worked as an assistant men's basketball coach at St. Edward's University in Austin, then moved to South Plains college in the same position. From South Plains, I got the job I currently have, as the Head Men's Basketball Coach at Concordia University Texas. My undergraduate degree played a small role in me having these opportunities. However, my graduate degree is what has allowed me to continue to move up in the profession. To have opportunities to coach at the collegiate level in today's game, it is almost required for you to have earned a master's degree. It doesn't necessarily matter what you earn it in, as much as you just need to have one.
Career influences:
My father has been my main career influence. He was a high school basketball coach and had other administrative responsibilities at his school. I grew up in the environment and had a passion for it as a player and knew it was the route I would take.
The Ups and Downs
Show
Pros: I get to do something I am passionate about, I get to help young men shape themselves in a critical time of their life, and I get to work with people from all different backgrounds and upbringings.

Cons: There aren't many cons, except when you start - pay isn't going to be great, and the hours you work will not be equal to what you are getting paid. But, if you really want to coach, and work in any area of a collegiate athletic department, you have to be prepared to start at the very bottom, and very patiently work your way up.
Recommendations
Show
I really wish I would have known how important time management is in your job, and to be patient in figuring out what it is you want to do. Once you figure what you're passionate about, then be willing to fully commit to it, and you'll find enjoyment in the work you're doing.
Interested in this Career?
Show
Learn more about careers in:

Check out these links: