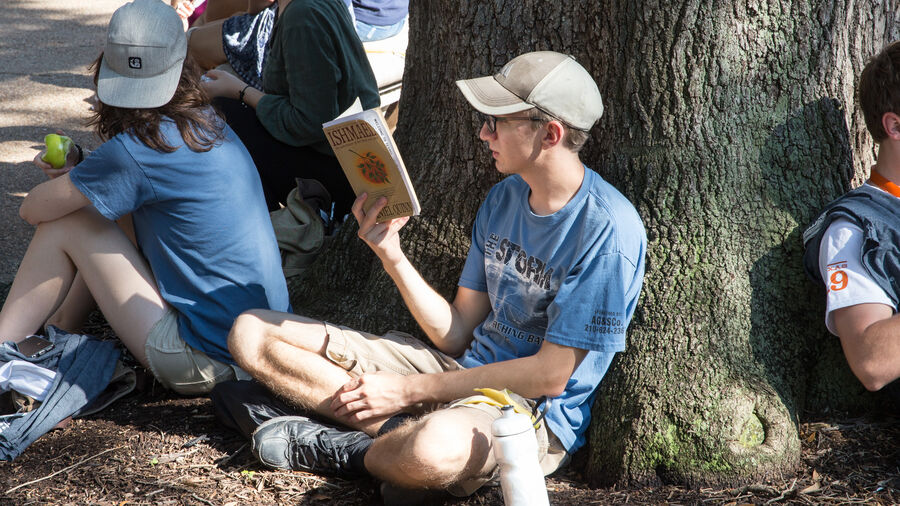 Trent Lesikar
The English major at the University of Texas at Austin offers a first-rate education.
Students in the English major graduate with a thorough grounding in British, American, and world literature written in English and its cultural and historical contexts, yet the degree plan is flexible enough to allow students to concentrate in other areas of particular interest, such as creative writing or cultural studies.
Just as importantly, English majors learn to articulate and defend their ideas, to turn research and critical thinking into cogent arguments, and to express themselves clearly and with style. Many students use the English major as a starting point for their chosen career or for post-graduate education. English majors work in such diverse fields as teaching and education, law, editing and publishing, advertising and marketing, freelance and technical writing, research, corporate communications, and government and public service, including Peace Corps, AmeriCorps, and non-profit organizations.
Declaration Requirements
Show
Prospective University of Texas at Austin students should visit UT Admissions to learn about the application process and how to declare a major.
How to Declare
Show
Undergraduates currently enrolled at UT who wish to declare an English major must first meet with an English advisor to review the degree plan and requirements. There is no formal application process. For more information, visit the student affairs page on internal transfers.
Specializations
Show
No specializations are required. However, students often choose courses for the major (and minor) that complement one another in meaningful ways, forming a de facto specialization. The English Honors Program is an opportunity students may wish to pursue as well.
Personality
Show
English students have diverse interests and a wide variety of personalities. Students have the opportunity to get further involved in the major through student organizations such as the English Council and Sigma Tau Delta.
Skills
Show
English majors develop many prominent transferable skills (this is not a comprehensive list):
Writing and communicating
Critical thinking
Analytical thinking
Problem-solving
Research skills
Persuading
Listening and interpreting
Attention to detail