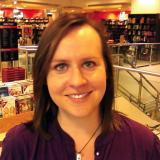 Senior Editor @
Business Wire
I'm an editor for a press release wire service. What's that, you ask? Our company distributes press releases for companies large (like Exxon & Apple) and small (start-ups, independent retail shops, etc.), any company that wants to send an announcement to thousands of reporters, newspapers, websites, investors, analysts or bloggers. I don't get to write the releases, just proofread for errors, format and send. I work directly with investor relations executives and directors of marketing and communications, and can advise them on how best to use the wire distributions we offer and how to fix problems with their text. A majority of my work is technical formatting, and learning how to use our proprietary software can take months.
How I Got Here
Show
Favorite class(es): East & Southern Asian Comparative Religion
Changing majors:
I majored in philosophy and minored in English, mostly because my mom told me English was a useless degree, so I tried to pick something even MORE useless.
Moving from college to career:
Simply having a degree seems to be the key, it doesn't seem to matter what, at least where liberal arts degrees are concerned. My main ticket to my career was all the internships and work experience I gathered during college. That's what seemed to have impressed at my interview, not the specifics of what classes I took.
Career influences:
I started off wanting to be a book editor in the publishing industry, because I loved reading and thought I wanted to write. I got an internship at a little local publisher, and then worked for several years as the assistant to a literary agent. I helped edit and write manuscripts and book proposals, but decided that I needed to get a full time job and didn't want to move to NYC to start a career at the bottom of the publishing heap. The starting salary for an editorial assistant in NY was quite a turnoff. So I applied to everything I could find that needed an editor, and finally got hired at Business Wire. It's not the creative writing/editing/bookish job I envisioned for myself, but it is editorial work that I'm good at, don't have to take home with me, and pays the bills so I can live the rest of my life comfortably. It was a realistic choice, rather than an ambitious one.
The Ups and Downs
Show
Plusses: my company has awesome health insurance coverage; it's a very stable company and my regional branch is doing well, so I'm fairly confident that I won't be laid off; my coworkers in my office are fun, likeable people to be with 8 hours a day; I work a very early shift, so that allows me afternoons home with my son. Minuses: not a lot of room for advancement--my duties as senior editor aren't much beyond regular editor--and the only way to go beyond this point is to switch into a different dept like Sales; also, my salary is reliable and safe, but not stellar, and I don't really think my raises have kept up with the rate of inflation. However, there are still raises, so I can't complain too much in this economy.
Recommendations
Show
Don't just work retail or fast-food to pay the bills during college. Take internships in the industries you're interested in. Do some summer temp work for a small company or do volunteer work in the summer. And you can work in several different kinds of businesses, and that will give you a wider range of experience to draw from. I think all that is more impressive to recruiters, and will ultimately be more valuable in a practical way than many of your classes will be.
Interested in this Career?
Show
Learn more about careers in:

Check out these links: