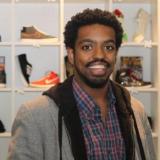 Small Business Owner @
Sneak Attack
I work in retail, marketing, and social media impresario. I'm also a writer and will soon release a book, "Indisputable: A Fan's Guide to the Live Music Capital," during South by Southwest 2011. The book is a guide to live music in Austin.
How I Got Here
Show
Favorite class(es): History of Rock and Roll
Changing majors:
College of Communication.
Moving from college to career:
I interned a ton to gain experience, moved to D.C., moved back to Austin - then started a business. I previously worked as a consultant for the chariman of the International Olympic Committee and the commissioner of the Pac-10 Conference.
Career influences:
My mom, various multi-taskers, Ben Franklin, Jay-Z, etc.
The Ups and Downs
Show
The best aspects of my position are the great people, lots of travel (for fun and work), and it is not mundane.
Interested in this Career?
Show
Learn more about careers in:

Check out these links: