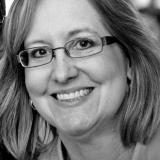 Communications Manager @
Ronald McDonald House Charities of Austin and Central Texas
I manage the RMHC Austin website, email marketing and communications, social media (Facebook, Twitter, YouTube, etc.) traditional media, PR and general marketing. This includes print, web, email and video communications.

When children are in the hospital, their families stay at the Ronald McDonald House or spend time at the Ronald McDonald Family Room. Part of my job is to tell family stories through many channels in order to help our supporters understand why their financial or volunteer support is so essential.
How I Got Here
Show
Favorite class(es): I both hated and loved editing my college newspaper. It was a massive challenge, but it stretched me and grew me, and I loved managing the staff.
Moving from college to career:
After graduating with an English degree, I taught High School English for 2 years and did not like it. After teaching, I did volunteer work for years while raising my two kids. I decided to go back to work when my youngest was in high school and worked as an Administrative Assistant for 18 months then was hired as the Administrative Specialist at the Ronald McDonald House. This position transitioned into the Communications Manager position which I now hold, and I've been here four years.
Career influences:
My college major was English, and I'm the grammar and editing police around here! I enjoy working with words.
My life experiences led me to love nonprofit work. I love knowing we're making such an impact on families in challenging times.
The Ups and Downs
Show
Pros:
Great staff of creative, smart and focused leadership here.
It's so rewarding to know how much we help families every day. I love sharing family stories.
My job is ever moving from one project to the next, so it is very interesting and keeps me learning new things.
I'm an "accidental techie" - I've learned a lot of technology on the job.
Cons:
We're a small staff and we manage with little fluff in our budget and our schedules.
Nonprofit work is rewarding, but it's not the way to make millions.
Recommendations
Show
While I am certainly putting my English degree to good use, I wish someone had encouraged me to listen to my heart a bit more while I was in college. A Psychology major would have probably suited me more.

Find out where your great passion meets the world's great need. The passion part is important, and you also have to figure out how to make a living in the process. There's a tension between following your heart and following the money. I do believe it can be both/and.
Interested in this Career?
Show
Learn more about careers in:

Check out these links: