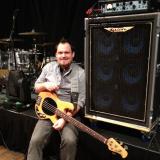 Musician @
Self Employed
I am a self-employed bass player who is hired by bands, solo artists, and producers to play with them. I primarily play shows, but occasionally I do have studio work.
A typical day is: I meet up with the group for the van call -- the timing depends on where the gig is, but it's typically in the morning or early afternoon. Once we get to the venue, we unload all of our equipment and set it up on stage. Then we sound check and run tunes we need to rehearse. After that, we typically have hours to sit around, eat, and just pass the time. Then it's show time, we play for our allotted time, pack up, get in the van (typically very late at night or very early in the morning) and do it all again the next day.
For more info about my career as a performer, check out the video of a Careers in the Music Industry panel I participated in.