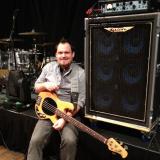 Musician @
Self Employed
I am a self-employed bass player who is hired by bands, solo artists, and producers to play with them. I primarily play shows, but occasionally I do have studio work.
A typical day is: I meet up with the group for the van call -- the timing depends on where the gig is, but it's typically in the morning or early afternoon. Once we get to the venue, we unload all of our equipment and set it up on stage. Then we sound check and run tunes we need to rehearse. After that, we typically have hours to sit around, eat, and just pass the time. Then it's show time, we play for our allotted time, pack up, get in the van (typically very late at night or very early in the morning) and do it all again the next day.
For more info about my career as a performer, check out the video of a Careers in the Music Industry panel I participated in.
How I Got Here
Show
Undergraduate Degree(s):
Music
Favorite class(es): Survey of Bass Styles
Moving from college to career:
My transition from college was pretty typical for a musician. I used the network I had built in college to look for gigs in the Austin area. The more I played with local artists, the larger my network became, and the easier it was to find gigs. My degree was absolutely necessary, because having that qualification and level of experience earned me at least an audition, if not a walk-on spot with almost everyone I contacted. It also provided me the skills and experience necessary to excel once I got the gig.
Career influences:
My main inspiration came from my bass teacher when I was sixteen. I was thinking about University at the time, and I hadn't decided what I wanted to study. I hadn't considered music, because I didn't believe I was good enough, even though it was my dream. My teacher told me that he believed I was good enough and really pushed me to pursue music. I wouldn't have made the same choice If he hadn't provided that positive reinforcement.
The Ups and Downs
Show
The biggest minuses are the career instability -- musicians frequently change gigs and employers, which makes it hard know how much money you'll be making at any given time. It can also be crushing when you have to stop playing with a band you love. As a musician, I also have to spend a large part of the work week away from my friends and family.
The pluses are that I get to do what I love -- I get to play music, be creative and entertain people. For me, these far outweigh the minuses.
Recommendations
Show
A lot of my friends in college said I was crazy for majoring in performance, because they thought I wouldn't find a job once I graduated. But I stuck with my choice, because I knew all I wanted to do was play music, and it's really paid off. If you believe in what you want to do and are willing to sacrifice the time and effort and a little piece of yourself to achieve it, then ignore the people who say you can't do it or that it's not a viable career option.
Interested in this Career?
Show
Learn more about careers in:

Check out these links: