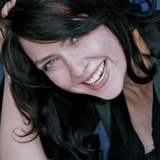 Associate Producer/Marketing @
59E59 Theaters
I work alongside the executive producer and artistic director to seek out potential projects, cultivate relationships with both established and emerging companies, and curate the upcoming theatrical programming. I'm the first point of contact for submissions, potential tenants, and current tenants. Another facet of my job is to help oversee each show's marketing plan—mostly preparing and approving copy for signage, e-blasts, and print/online marketing materials.
How I Got Here
Show
Graduate degree(s): I seriously considered going back for my MFA in Acting, though I didn't particularly want to teach. I did the URTA auditions a couple of times and even took the GREs, which I did not score too hot on!
Favorite class(es): Scene Study, European History, Women in Television
Moving from college to career:
I graduated in 2006 from the University of Wisconsin, moved to New York City three months later, did a year-long acting conservatory at Michael Howard Studios, worked multiple odd jobs, auditioned, got a receptionist gig at New World Stages, and became the Co-Founder and Artistic Director of On the Square Productions (which went on to produce 7 mainstage shows). Meanwhile I was working my way up to Office Manager of New World Stages. I then became Executive Assistant to the Producer of Stage Entertainment, and worked under her on Sister Act: The Musical. After that, I was Company Manager of the Gazillion Bubble Show, the Programming Manager of New World Stages, and then got my new job at 59E59 Theaters as Associate Producer.
Career influences:
I sort of fell into theater administration. I had gone to acting school in New York City after I graduated, went out into the audition circuit, and didn't fully like the whole process. I don't think anyone does really. I just didn't like the artificiality of it, but it IS a crucial part of being an actor! So I got a job as a receptionist at an Off Broadway theater and just kept working my way up. During all of this, I also had my own theater company with a dear friend of mine, that just came to a close this summer. That sort of tickled our creative bones when we weren't doing something artistically fulfilling. It also became a huge networking tool for both of us! We got some real-world experience with On the Square Productions, and it's something my partner and I are both incredibly proud of. I also had the wonderful opportunity to work with a producer named Beverley Mac Keen. She taught me so much about creative collaboration, and how to develop a project. In almost any tricky situation, I'll ask myself, what would she do?!
The Ups and Downs
Show
I just started at this particular job, so time will tell! But one thing about the theater administrative world is that it's not a 9-5, five day a week thing. It can't be. Showtimes are typically at 8 p.m., so there's all the prep work before hand. And, so much of this business is relationship based. That means going to see your colleague's work and having drinks with people afterward to talk it out. It's really a 10 a.m./11 a.m. until midnight job sometimes! Also, unless you're a producing tycoon, the majority of theater work (both commercial and non commercial) does not pay that well—so make sure your heart is in it.

I guess I should talk about the positives too! The theater world is a small community—even here in NYC! There's rarely a day that goes by where I don't run into or hear from an old friend or colleague. I worked in Times Square/Theater District up until a couple months ago—and though I hated the congestion and traffic, there's definitely something really magical about walking past Broadway show marquees every day. Also, going to fancy events are super fun! Galas, opening nights, award ceremonies, cocktail parties—it's a good time! I secretly like getting all dressed up.
Recommendations
Show
The world will not hand you a job for having a college degree. You may have to work jobs that you didn't envision yourself working and get in through the side window rather than the front door. It's all going to be ok. Also, you are not your major and are capable of more than you may realize.
Interested in this Career?
Show
Learn more about careers in: