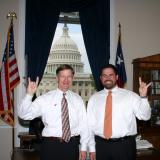 Legislative Director and Counsel @
Office of U.S. Congressman Lamar Smith (Representative for the University of Texas at Austin)
As Legislative Director and Counsel to Congressman Lamar Smith, I oversee his legislative priorities and serve as a liaison between his personal office and the House Judiciary Committee, where he serves as the Ranking Member.
How I Got Here
Show
Graduate degree(s): Juris Doctorate (JD)
Favorite class(es): Interpersonal Communications by Dr. John Daly
Changing majors:
As a result of the influence of my older siblings, I started UT in Electrical Engineering. It clearly was not a good a fit. After one semester, I changed to Economics, a degree which I felt gave me more flexibility to lay my own path.
Moving from college to career:
Three weeks before graduating from law school, Congressman Smith offered me the opportunity to be his Campaign Manager. I accepted and postponed taking the bar exam. After serving as his Campaign Manager, I became his District Director where I oversaw his operations in Texas. Shortly thereafter, I was asked to move to Washington, DC, where I now serve as his Legislative Director and Counsel. More than what I was taught, economics allowed me to think in different way and to analyze large amounts of information. I would encourage students to focus more on what you love to do than on how your degree is going to help you later. There will be plenty of opportunities to change directions later in life.
Career influences:
I always wanted to be involved in politics. I enjoy working with people and like the competitiveness that comes with my job. This is a world where you have to think on your feet and always be out-thinking and out-working your opponent. Every day brings a new challenge.
The Ups and Downs
Show
In my job, you never stop learning. Every day is filled with new opportunities. And while the hours can be long and unpredictable, I stay late because I want to not because I have to.
Recommendations
Show
Make sure to take classes that are not a part of your major. Don't be afraid to fail, we all learn from our failures. Get involved on campus. Remember that in college, sometimes the best lessons won't be taught in the classroom. And most importantly, attend as many football games as you can, even those that are away. Hook 'Em!
Interested in this Career?
Show
Learn more about careers in:

Check out these links: