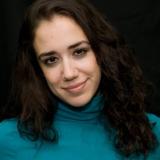 Marketing and Communications Manager @
HomeAway, Inc.
I write and edit all of the marketing and PR copy for the bedandbreakfast.com brand. This includes blog posts, promotional and sales emails, e-mail newsletters, print ads, postcard mailers, press releases, and a variety of other marketing collateral. Lately, I also get to manage our traveler-facing Twitter account and help with some social media strategy.

I also do freelance writing for various websites and publications.
How I Got Here
Show
Favorite class(es): History of Rock-n-Roll!
Moving from college to career:
I loved film, so I decided to major in Radio-TV-Film. While it was interesting, I wasn't loving it; especially the production part. During my sophomore year, I saw an ad posted at my dorm seeking freelance writers for a publication called The Austin Student (it was a Daily Texan alternative started by former Daily Texan employees - it is now defunct). I decided to go for it. I was accepted as a writer for them and did some freelance writing for them, and loved it. I was mentored by some great people there, and they quickly asked me to come on as an associate editor. I moved up and became the top editor. Sometimes it was hard to juggle with school, but I loved it. I realized my calling was in journalism, but I found out it would take me an extra year in college to officially switch majors, so I stayed in RTF and pursued journalism on the side. I got special permission to take J315, the basic journalism course, to really learn AP style and some other core skills. I did editorial internships at Tribeza and Texas Monthly. My first job out of school was in journalism. All with an RTF degree! My RTF degree required me to take some basic communications classes, which helped me feel like I got a good communications background.
When I was getting tired of my journalism job (it was in a niche industry I found that I wasn't too interested in), I knew that I loved travel. I found a copywriting position at a travel company here in Austin, and later I was promoted to be the Marketing & Communications Manager. Writing is still my primary job, it's just in a different context now.
Career influences:
I always knew I liked to write - in high school I helped start an alternative school newspaper. For some reason, I never thought of it as a career for me. When I wasn't into the RTF thing as much as I thought I would be, I started looking for other interests of mine, and that was one of them.
The Ups and Downs
Show
(I'm not going to go into freelancing here - just day job)

Pros: The biggest plus is that it's hard to get bored because there is so much variety. It also gives me the opportunity to learn about new things since I do so many things - one of the benefits of working in a small division of a company (or a small company). My job before this was in journalism, so I was on the receiving end of press releases - not writing them! I have been learning how the PR process works, so whenever I move on, I will have a larger variety of experience under my belt.

Cons: I have to be a jack of all trades! It requires me to be a quick learner and be good at writing for a huge variety of mediums. I also have pressure to proofread extremely carefully, because if there is a typo in our SkyMall ad, I get the blame!
Recommendations
Show
DO take some fun electives. I took History of Rock-N-Roll. Not a requirement to be successful in life, but it was so fun and I learned a lot about music history (and culture). I also made sure to take some classes within my major that I really liked, like one on cult film and television. You need to take your core classes, but you should also enjoy yourself a little.

Don't think your degree locks you into that career path for life. While I do know a decent amount of people who went into the field of their degree, I know someone who is a brilliant product marketing manager, and her degree is in microbiology! I know so many people with a story like this.

Internships really help you test out the waters in a field you're interested in. Once I was pretty certain I wanted to go into journalism, I did some journalism internships to make sure that's what I wanted to do. It also gave me some great hands-on experience!
Interested in this Career?
Show
Learn more about careers in:

Check out these links: