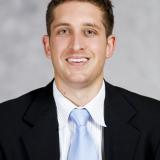 Associate Vice President - External Relations @
Concordia University Texas
I am involved in all aspects of fundraising strategy and non-profit management including major donor strategy, cultivation and solicitation, corporate giving, events, board development, direct mail, annual giving, and infrastructure building and management. I have developed a proven expertise in developing diversified funding sources, increasing fundraising results, and furthering organization's goals through emphasis on relationships. One of my main objectives is to increase fundraising goals.
How I Got Here
Show
Favorite class(es): Principles of Advertising
Moving from college to career:
During my four years at college I worked for the OSU Athletic Department in Marketing and Events. Upon graduation in December 2002, I moved to West Palm Beach, Florida and worked for PGA National coordinating golf tournaments. I enjoyed coordinating events and then volunteered at an American Red Cross special event in Palm Beach. I then landed a job as an event coordinator with the Red Cross and worked for there for four years moving from event coordinator to manager of major gifts. I then decided to move to Austin and secured a job in fundraising for Concordia University Texas. My undergraduate degree provided me with the principles of marketing, advertising and writing skills necessary to perform as an event planner and fundraiser.
Career influences:
My biggest influence were alumni from the fraternity I joined. During my freshman year, the fraternity aligned us with alumni mentors and I chose Public Relations after speaking with several mentors.
The Ups and Downs
Show
Pros: The positive aspects of non-profit fundraising include - every day is different, usually not long work hours, continuing education is supported, good work/life balance and opportunity for advancement.

Cons: Some of the drawbacks are lower salaries, limited resources, but I think the positives outweigh the negatives.
Recommendations
Show
When you are considering a major, talk to as many people as possible about potential careers with that degree. I also think it is becoming necessary to obtain a master's degree, so plan for that in your college path.
Interested in this Career?
Show
Learn more about careers in: