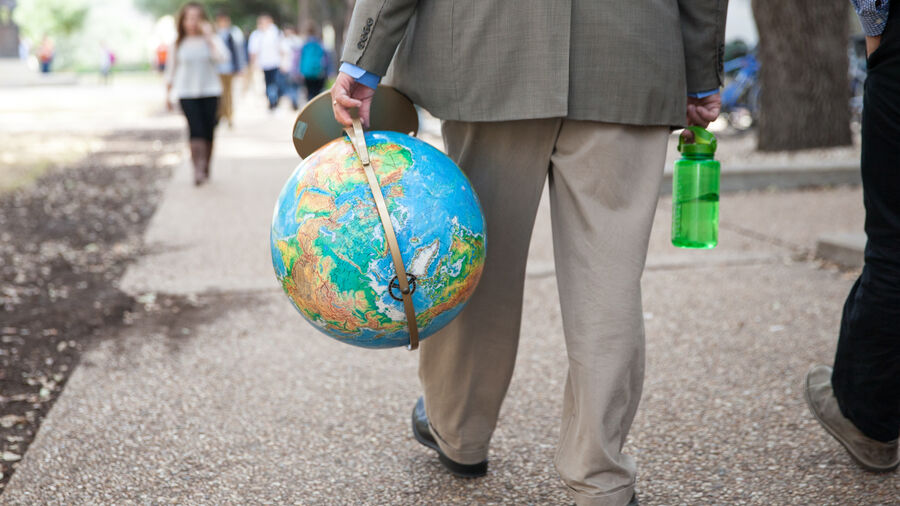 Trent Lesikar
The Bachelor of Arts degree program in Geography focuses on our interdependent world and our fragile habitat.
The major nourishes a sense of responsibility and provides tools for the solution of environmental, regional, and international problems. The program provides a depth of study to ensure the satisfaction of having mastered a discipline. Students have the opportunity to focus on one of the major areas of study, or tracks, within the department, and to master methods and techniques which can provide the foundation for a successful career.
The Department of Geography and the Environment is proud of the special opportunities it offers majors for study abroad, internships, and honors programs. Students are encouraged to pursue interdisciplinary opportunities such as the Bridging Disciplines Programs, and to pursue undergraduate research.
A degree in Geography provides marketable skills that enables graduates to move beyond entry-level positions. Although few jobs include the title "geographer", a Bachelor's degree provides skills that are desired in a variety of occupational settings. To learn more, visit the Department of Geography and the Environment's careers and internships list. The list is far from all-inclusive, but demonstrates the cross-section of opportunities in government entities, non-profits, and businesses.
Declaration Requirements
Show
Prospective University of Texas at Austin students should visit UT Admissions to learn about the application process and how to declare a major.
How to Declare
Show
Undergraduates currently enrolled at UT who wish to declare a major in Geography must first the Geography advisor. There is no formal application process. To make an appointment, please call 512-232-6344 or visit CLA 1.216. For more information, visit the student affairs page on how to declare a major.
Required Courses
Show
Visit the Geography degree plan to see all required courses for the Geography major in the College of Liberal Arts. For additional information, view major requirements and Geography course descriptions.

Geography majors take courses in the multiple areas of the discipline and then have the opportunity to choose coursework based on their interests. Students take at least two courses in physical geography, human geography and methods and techniques, and then four courses of their choosing. Tracks or specializations are an optional way of centering those four courses around a central theme.
Skills
Show
The Department of Geography and the Environment provides multiple perspectives and tools to understand the relationships between people and their environments, analyze diverse cultural landscapes, and solve problems related to local and global change. Geography coursework allows students the opportunity to explore issues related environmental change physically, politically and culturally, as well as teach technical skills such as GIS. Students will have to think critically, write, give presentations, and analyze these issues.