Arts and Entertainment Technologies
Major in the College of Fine Arts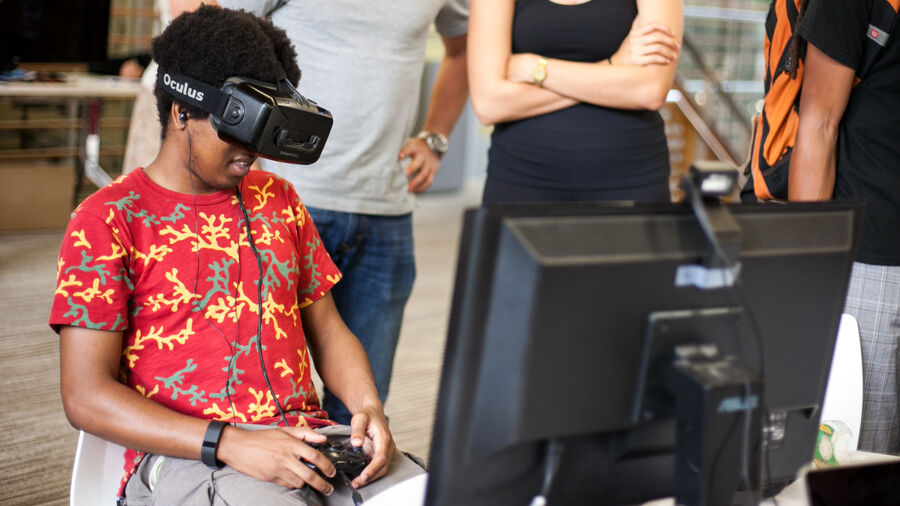 This professionally oriented Bachelor of Science program is focused on cross disciplinary study and industrial applications of experience design and immersive media such as game design, mixed reality, themed entertainment, interactive storytelling, sound design, motion graphics and video, and emerging creative technology fields.
A flexible degree plan gives students room to double major or minor in other areas of study such as design, computer science, or business.
Ideal students are comfortable with technology and creatively driven, with demonstrated experience in one of the following:
Making games or working with game technology
Computer programming
Building objects and experiences with electronics
Traditional art transformed through technology
Live performance and theater technologies
Augmented or virtual reality technology
Additionally, students who also demonstrate competence in the following areas could be a good fit for the AET program:
STEM or STEAM courses
Computer Science, A/V, or Game Design clubs and activities
Our faculty specialize in game design, themed entertainment, music and sound, motion graphics and video, immersive media, interactive storytelling, and other creative technology fields. AET is a bridge between the university and Austin's vibrant arts, tech, and culture scenes. We actively cultivate partnerships across the city and work with organizations all over the country to provide our students with unique opportunities.
Declaration Requirements
Show
Prospective University of Texas at Austin students should visit UT Admissions to learn about the application process and how to declare your major.
For more information regarding declaration requirements, visit the School of Design & Creative Technologies admissions page.
How to Declare
Show
Undergraduates currently enrolled in another college or school at The University of Texas at Austin who wish to add/change their major to Arts & Entertainment Technologies must submit an internal transfer application.
Learn more about the internal transfer admissions process and its requirements.
For internal transfer, priority consideration will be given to students who demonstrate a timely pathway to graduation and who have a 3.0 or higher GPA. Current UT Austin students should review the university's policies on internal transfer. It is highly recommended that students review the B.S. AET Degree Guidelines before applying.
Have any questions? Email or schedule an admissions chat with the SDCT Undergraduate Admissions Coordinator. Applications are only accepted for each Fall semester, updated details on the Internal Transfer Application portal + future SDCT Internal Transfer Info Sessions will be listed here.
Required Courses
Show
View the degree plan and required courses for the AET degree.
Skills
Show
AET students will gain extensive exposure to creative production software and hardware, utilizing these tools for individual or group-based projects. These projects will leverage programs like 3-D Studio Max, After Effects, Audacity, Blender, Final Cut Pro, Illustrator, Logic Pro, Maya, Photoshop, Pro Tools, TouchDesigner, Unity, Unreal and Vectorworks. Students will also learn foundational coding in JavaScript and Python.
The BS in AET curriculum is designed to have students build a diverse and creative portfolio that can be vital in entering a professional career. In addition to these tool-specific skills, students will also gain valuable experience in project-based group work via professional level interpersonal environments.