Arts and Entertainment Technologies
Major in the College of Fine Arts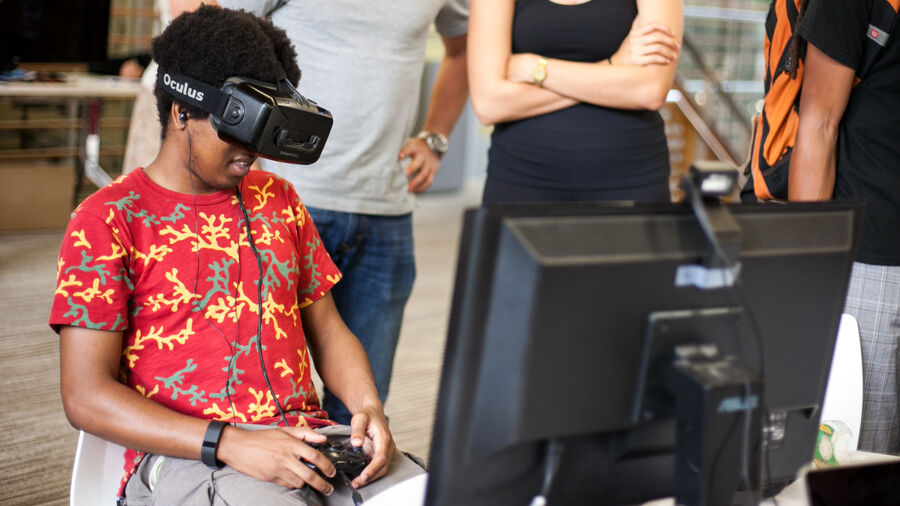 Arts and Entertainment Technologies (AET) is the first Bachelor of Science degree offered by the College of Fine Arts in the School of Design and Creative Technologies at The University of Texas at Austin.
In this interdisciplinary major, creative expression merges with technological innovation. AET foundational courses deliver creative coding fundamentals, an introduction to a wide range of creative production software and a colloquium series of guest speakers. Students advance to projects-based coursework drawn from four emphasis areas: Game Design, Digital Visualization, Performance, Lighting and Interactivity (PLAI) and Music and Sound. In addition to completing the university's core curriculum, students will also complete a secondary field of study in a complementary area, such as Business Foundations, Elements of Computing, Integrated Design or Studio Art. Graduates of AET will be prepared to create digital content, lead production teams and develop new applications of technology in the evolving
Declaration Requirements
Show
Priority consideration will be given to students who demonstrate a timely pathway to graduation and who have a 3.0 or higher GPA. Current UT Austin students should review the university's policies on internal transfer. It is highly recommended that students review the B.S. AET Degree Guidelines before applying.
Portfolio Requirement A portfolio is a professional presented collection of your strongest artistic work. This is an opportunity to show us your ideas, creativity, technical skills and what makes you unique. These should be projects that you have made yourself using the tools of art, design, music, software or engineering. Portfolios should demonstrate your interest and aptitude for advanced study. It is required for internal transfer applicants to submit a portfolio for admission consideration. Applicants are encouraged to submit only their best-completed work; quality over quantity is preferred.
Have any questions or academic concerns? Email or schedule an in-person appointment with the SDCT Undergraduate Academic Advisor to explore your current graduation timeline and options for potentially adding AET coursework to your schedule. Advising availability will be extremely limited during the mandatory advising period in April.
How to Declare
Show
The Bachelor of Science in Arts and Entertainment Technologies (B.S. AET) is a degree offered by the Department of Arts and Entertainment Technologies within the School of Design and Creative Technologies and a component of the 2018-2020 degree catalogue. The internal transfer/major change process is for current University of Texas at Austin students who are applying to enter the College of Fine Arts and the B.S. AET degree program.
Required Courses
Show
View the degree plan and required courses for the AET degree.
Specializations
Show
Game Design: The Game Design and Development program offered through the Arts and Entertainment Technologies degree extends the core mission of the University and prepares students for entry level opportunities in the game industry and related fields by combining design driven hands-on experience with industry standard methods and practices. Students create complete, presentation-ready work at all levels of study in design, art, tech, and production.
Career Opportunities: Level Design, Technical Artist, Environment Artist, Producer.
Digital Visualization: Digital Visualization courses provide a pathway for students pursuing careers as visual content providers for a wide range of activities including game design, 3-D projection, character animation, world building, AR/VR and many areas of commercial art pursuits such as motion graphics and digital video editing. Through foundational courses in imaging and visualization, digital drawing and 3-D modeling, students are introduced to industry-standard software like Adobe Creative Cloud, Autodesk Maya and Unity. Students are encouraged to collaborate with all the other AET emphases and with other creative disciplines across the College of Fine Arts and beyond.
Career Opportunities: 2-D production artist, 3-D production artist, animator, motion graphics artist, concept art developer, art director.
Projection, Lighting, and Interactivity (PLAI): PLAI converges lighting, projection, digital media, gaming technology and interactive systems to enable new performances and allow students to develop and design digital live experiences. PLAI equips students to utilize digital imagery, lighting, projection and creative coding to create engaging immersive and interactive live environments. Common applications are found across a broad spectrum that includes themed entertainment, promotional events, e-sports, EDM, music concerts and architecture of public spaces. Students will learn methods for entertaining and communicating with audiences through established and emerging techniques such as 3-D projection mapping, motion tracking, generative imagery and interactive entertainment control systems. Students will also work collaboratively to produce dynamic visual displays for live events such as music concerts and sports events to provide them with experiential learning that prepares them for a successful career after graduating.
Career Opportunities: Lighting programmer, media programmer, interactivity designer, lighting designer, media designer, interactive systems developer, 3-D mapping specialist.
Music and Sound:The Music and Sound emphasis explores the hardware, software and creative practices of contemporary music and sound design. Courses in audio processing, synthesis and sampling prepare students to utilize current music and audio systems to create their own tracks and sound for games, screen, branding and interactive performance and live events. Additional courses are also offered in popular music styles, commercial music and music programming. Students are encouraged to collaborate with the other AET emphases and with other creative disciplines across the College of Fine Arts and beyond.
Career Opportunities: Sound designer for theatre, film or games, film music and sfx composer, game music composer, game audio specialist, sound/live sound engineer, songwriter-performer, commercial and brand music composer.
Skills
Show
AET students will gain extensive exposure to creative production software and hardware, utilizing these tools for individual or group-based projects. These projects will leverage programs like 3-D Studio Max, After Effects, Audacity, Blender, Final Cut Pro, Illustrator, Logic Pro, Maya, Photoshop, Pro Tools, TouchDesigner, Unity, Unreal and Vectorworks. Students will also learn foundational coding in JavaScript and Python.
The BS in AET curriculum is designed to have students build a diverse and creative portfolio that can be vital in entering a professional career. In addition to these tool-specific skills, students will also gain valuable experience in project-based group work via professional level interpersonal environments.