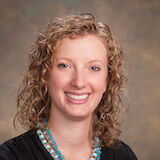 Nurse Practitioner @
Wise Woman Wellness
After obtaining my undergraduate degree I worked as an intensive care nurse for several years. I continued working while obtaining my master's degree in nursing science. As a nurse practitioner I have worked in several different roles- inpatient (hospital) internal medicine, treating patients via phone and virtual care from home, and now as a functional medicine nurse practitioner in a small, privately owned wellness clinic. I currently focus on preventative and holistic care of women with hormone and thyroid concerns.
How I Got Here
Show
Graduate degree(s): Master's of Science in Nursing
Favorite class(es): Clinical coursework- immersion in a variety of nursing specialties (ie pediatrics, gerontology, critical care)
Moving from college to career:
New college graduates typically do not move directly into critical care. It is a demanding specialty with a wide learning curve. Fortunately I started a pilot program at the hospital that hired me for an additional 9 month program with extra learning. It was like a mini nurse residency, similar to the residency physicians complete at the end of medical school. Even so, I probably did more journal reading and "homework" the first two years out of school than I did when I was I school. My preceptors and mentors were very willing to answer questions.
Career influences:
Initially I thought I would head into education- teaching other nurses how to continuously evolve and maintain current practice. However after working with several excellent nurse practitioners - I felt I could make more of a daily difference staying in direct patient care. I chose to license in family practice- ensuring I could evaluate and treat the entire spectrum from birth to end-of-life.
The Ups and Downs
Show
Working as a bedside nurse is full of challenges. The teamwork and education you can receive from your colleagues is amazing. However, staffing ratios, mandatory overtime, and government- monitored benchmarks can overwhelm. I experienced professional burnout before learning to prioritize that desired work/life balance.
The best part of my job is assisting a patient on a path to wellness- whether that's through disease management or promoting lifelong health and wellness goals.
Recommendations
Show
There is so much variety in nursing. You can literally take your career anywhere. You can work in direct patient care, case management, administration, hospital versus clinic. You can get paid to be a travel nurse. You can go back to school for a graduate degree if you choose. I recommend shadowing a variety of health care professionals if you are unsure exactly where you want to land. Hard work and initiative get noticed quickly. Part-time jobs as a caregiver (CNA, patient aide) and volunteering really do matter when looking at applicants.
If you are considering the nurse practitioner route, I recommend working as a nurse first. There are programs where you can head directly into your masters or doctorate directly from undergrad. But the background and depth of understanding you gain from working as a nurse first are experiences you will draw from your entire career. Once you have your degree, the variety of career choices is wonderful.
Interested in this Career?
Show
Learn more about careers in: