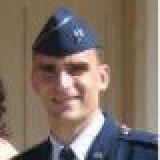 Instructor Navigator, Chief of Safety @
United States Air Force
Navigation Instructor, Chief of Safety, C-130 Navigator. My responsibilities include the daily management and leadership of a flight of 30 students. I also provide instructions/management of training in multi-million dollar simulators and aircraft. I am involved in the process of instruction, evaluation, and grading of student performance. As a navigation instructor, I am specialized in small team dynamics in high pace, high pressure environments.
How I Got Here
Show
Graduate degree(s): Masters in Business Administration (MBA)
Favorite class(es): Operating Systems, Statistics, Economics.
Changing majors:
I did not change my major during college, but I did pursue an MBA.
Moving from college to career:
Worked in corporate world as a database administrator and senior programmer/analyst for 6 years before deciding to join the Air Force.
Career influences:
Love of flying; patriotism.
The Ups and Downs
Show
You think you're boss is bossy? Travel to exotic destinations; a few, but mostly to the sandbox.
Recommendations
Show
Should have joined the Air Force before staying a long time in the corporate world. It closed a few doors in the long run, but I'm happy to be in my current position.
Interested in this Career?
Show
Learn more about careers in: