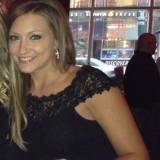 Registered Dietitian/Speech Language Pathologist @
Emory University Hospital
I assess nutritional risks and nutritional status. Some of these markers might involve things like dietary intake or looking at lab values which may be indicative of malnutrition. From these components, I develop and implement a nutrition plan and monitor outcomes over time. I counsel patients on many different things such as eating disorders, obesity, and dietary restrictions. I also develop meal plans for patients who will be spending a longer duration of time in the hospital.
How I Got Here
Show
Graduate degree(s): I have a master's degree in biomedical engineering as well as a master's degree in speech-language pathology.
Favorite class(es): Medical Nutrition Therapy
Changing majors:
I started off as a chemical engineering and Spanish double major. Then, I eventually changed to nutrition and dietetics with a double major in Spanish, and a biomedical engineering minor. I had originally been pre-med but eventually decided that this was not the route I wanted to go, so I substituted my pre-med requirements with speech-language pathology prerequisites.
Moving from college to career:
After completing my two graduate degrees, I was left deciding what field I would ultimately enter. I experimented with them all until I found the right fit. I started out as a clinical engineer at Johnson & Johnson working with biomaterials and adhesives, but I decided that this was not right for me. Then I went to work at an outpatient orthopedic and rehabilitation clinic as a speech-language pathologist, but the pay was not what I had been accustomed to after my gig at Johnson & Johnson, so I left to try dietetics. I started my job at Emory University Hospital and picked up PRN work as a speech-language pathologist. Now I am able to have the pay that I desire while fulfilling my intellectual needs in a career.
Career influences:
I was inspired to become a dietitian after interning at an outpatient rehabilitation clinic in my hometown. I interned at the clinic everyday after school during my senior year, when I was deciding between becoming a physical therapist, speech-language pathologist, or a dietitian. I really connected with the dietitian and the work that he was doing, so I decided to pursue it at the undergraduate level. However, I was also interested in speech-language pathology, so I pursued a graduate degree in the field.
The Ups and Downs
Show
Pros: I have fairly normal hours and only occasionally will I need to be "on call" with the hospital. I am usually home in time to spend time with friends or do things that I enjoy such as cooking, running, and going out. I have great flexibility about where I can work and if I no longer want to work in the hospital, I can move to many different other settings. The pay also is not bad.

Cons: At times, my job can be a bit boring if there aren't many patients that need my services at the time. To make up for some of these "slow times" in the hospital, I will do work as needed as a speech-language pathologist at a local elementary school or skilled nursing facility.
Recommendations
Show
Internships and shadowing are critical to finding the right career. I never would have known what I wanted to do with my life, had I not completed numerous internships throughout high school and college.

Also, your major isn't nearly as important as the skills that you learn from it. It's okay to change your major! It takes time to find the right fit.
Interested in this Career?
Show
Learn more about careers in: