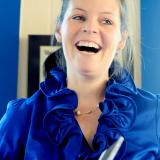 Vice President for Customer Experience @
NetSpend Corporation
I've had an interesting career path. I started in business consulting after college, focused on Change Management. In consulting I gained a diverse experience across various industries. I worked in energy, higher education in operations, marketing and fundraising. In my current role, I am responsible for improving the experience our customers have with our products and services. I collect feedback from customers and work with all departments within our company to implement the optimal customer experience. In many ways I'm still doing change management but instead of consulting for clients, I do it for my own company.
How I Got Here
Show
Favorite class(es): Leadership and Communication, Dr. Witherspoon
Moving from college to career:
I would say that the most important thing that lead me to be successful in my career was my involvement in extracurricular activities at UT. Liberal Arts Council, Greek Life, Senate and Orange Jackets prepared me to lead from day one of my career. Because I had led meetings and spoken in public, I was not afraid when I was asked to lead a training class as a new consultant. While I didn't have a business degree, I felt more prepared for my job because of the leadership experience I had than my co-workers who had business degrees.
Career influences:
The biggest influence on my career were the recent graduates who I identified with who went into consulting. I saw people who thought and worked like me and I figured if they liked what they were doing I would as well. I also liked the idea of using my psychology degree in business. As a change management consultant, I worked on the "people" side of business helping employees through change initiatives.
The Ups and Downs
Show
Pros: I get to work with a diverse group of people. I'm passionate about making things better for our customers. I travel a little to meet with partners and customers. I get to have real input on what happens in our company.

Cons: The hours can be long and customers can be demanding.
Recommendations
Show
Choose a major you like. Take business foundation courses. Get involved in something outside of class and take any opportunity to be in a leadership position: discussion group leader, officer in a club or volunteer project coordinator. It doesn't just look good on your resume, it prepares you for life.
Interested in this Career?
Show
Learn more about careers in: