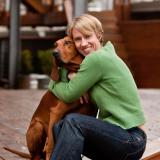 Statewide Orientation and Mobility Consultant @
DARS Division for Blind Services
Orientation and Mobility (O&M) is a unique profession and not very well known! O&M instructors teach blind individuals how to travel (cross streets, find locations, etc.) using a long white cane and senses other than vision. Perks of being an O&M instructor include getting to walk around outside a lot (it is not a desk job), getting to be creative, and getting to be a teacher in a non-conventional teacher role. My job as the O&M Consultant is to ensure that O&M instructors working with our consumers believe that blindness is just a characteristic, that blind people are simply ordinary people who cannot see, and that instructors employ the blindfold and long white cane in O&M training.
How I Got Here
Show
Graduate degree(s): Master's degree in Educational Psychology.
Favorite class(es): Personality Theory
Moving from college to career:
I selected Psychology as my major because I found it interesting, not because I knew of a career that would use that base of knowledge. In fact, I was pretty sure at the time that I was picking a major that would most definitely NOT lead to a career! Still, the content of the major intrigued me, and it has served me well in this role.
Career influences:
I had no idea what I wanted to be when I grew up even after I graduated from college! The second summer after I graduated college, in an effort to pay my bills, I took a temporary part time job working with blind young adults. I was responsible for ensuring that the students had their chores done so we could do something fun (eat ice cream, float the river, swim, etc.). Not a hard job to enjoy, I assure you! My enthusiasm for that job was noticed by the permanent staff, and they encouraged me to consider becoming an O&M instructor, which I knew nothing about. They gave me contact information for a few university programs, I called every single one for information, found one (Louisiana Tech) that resonated perfectly with what I believed about people's abilities, and six weeks after that temporary job ended, I was in Ruston, LA attending graduate school. Please note, I wasn't expecting a career out of a temporary job, it just happened. I was on the verge of a nervous breakdown because I didn't know what my career was going to be. An opportunity I didn't even know existed presented itself, and a whole new world opened up to me.
The Ups and Downs
Show
As the Statewide O&M Consultant, I travel throughout Texas . . . a LOT!! I spend a lot of time away from home in some towns that are awesome, and some that are far from awesome. I often miss home. I definitely miss my dog, Hank. But, all that travel means I have a VERY flexible schedule, which allows me to participate in all sorts of fun things, like trail running and triathlons. My colleagues are the biggest plus to working in this field, though - no question. I get to work side by side with some of the most passionate, caring people I might ever get the chance to meet! It's hard not to love a job when you work with people who are changing the very foundations of people's lives in such a positive way!
Recommendations
Show
You don't HAVE to have a career picked out before you start a career! There a jobs out there that we don't even know exist. Do what interests you, right here, right now. It'll lead to something you'll enjoy!
Interested in this Career?
Show
Learn more about careers in:

Check out these links: