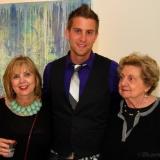 Internet TV Producer @
Freelance
I produce and engineer Internet TV broadcasts, including red carpet events, live shows, and video on demand.
How I Got Here
Show
Undergraduate Degree(s):
French
Graduate degree(s): No, not yet.
Favorite class(es): Photography
Changing majors:
I started off as a Pre-Med student but changed to French Studies after struggling with Organic Chemistry.
Moving from college to career:
After graduation, I spent a year back in France teaching as an English language assistant at a small-town high school. I came back to a town with slow job growth and was invited to move to Los Angeles. At first I worked in the talent management side of the Entertainment Industry, but then transitioned to the Gaming Industry, and subsequently, the Internet TV Industry. In addition to French, which taught me to appreciate a variety of cultures, I also minored in English Literature. It's amazing how much one ends up writing, with e-mails and reports and such - having strong English skills certainly helps.
Career influences:
Photography played an obviously key part in my career path, but French influence my journey to Web TV, thanks to the host family I stayed with while studying abroad.
The Ups and Downs
Show
Pros: challenging work, constantly learning; financially rewarding; international travel (like Italy, China, Denmark); part of a new, pioneering industry; lots of cool electronic equipment; working with really smart and talented people - in the end, it's always about the people.

Cons: 12 to 16 hour work days at times; high stress at times, especially during live shows - that's about it.
Recommendations
Show
Remain open-minded about what type of work you are willing to do because often working a gig can lead to new opportunities.
Interested in this Career?
Show
Learn more about careers in: