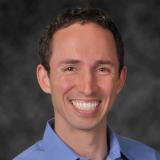 Manager - Scalable Visualization Technologies @
Texas Advanced Computing Center
I conduct my own research into scientific visualization algorithms and applications (like the weather report, but with different data) and I consult with researchers who use our advanced computing systems to help them gain better insight from their visualizations.
How I Got Here
Show
Graduate degree(s): I have a masters and a doctorate both in computer science. My dissertation evolved out of a class project and ultimately was put to use in part of my career at TACC.
Favorite class(es): Neural Networks and Cognitive Science
Changing majors:
I started out pre-med / pre-law in college, but neither really took. I had played with computers in elementary and middle school, and I thought that no matter what, a degree in computer science would be useful. A friend in the dorms was CompSci, and I started taking classes with him.
Moving from college to career:
My undergraduate degree gave me the initial training and inspiration to pursue a graduate degree and my eventual career. After undergraduate, I spent two years with a dot-com startup, which gave me crucial insight into the business world and "real life". I then returned for graduate school and eventually took up a student job that turned into a full-time job at TACC.
Career influences:
I had a student job with TACC, and through my exposure there, I discovered that I could do the work I wanted to do in a positive, supportive environment with cutting-edge people and technology.
The Ups and Downs
Show
I have great flexibility in conducting research I find interesting and fulfilling, and I get to work with talented people who are leaders in many different fields across science. Working at a university gives me day-to-day freedom and flexibility that might not be found in a corporate environment. While a public university cannot match salaries and perks in industry, the health care and quality of life significantly balance this.
Recommendations
Show
Say 'yes' when you can and 'no' when you must.
It is okay to feel overcommitted, it expands what you can do.
Find a major that encompasses what you like to do. Regardless of the job you have afterwards, you will be doing something you like.
Read before you sign.
Interested in this Career?
Show
Learn more about careers in:

Check out these links: