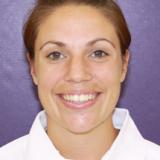 Head Coach @
Concordia University Texas
I oversee all aspects of an NCAA Division III Women's Soccer Program, including but not limited to budgeting, recruiting, day to day management, academics, on the field coaching, management of players, scheduling, game day and practice preparation, management of staff, and compliance with NCAA rules and regulations. All coaches are also responsible for a secondary job within the department (examles include facility management, academic advising for student-athletes, arrangement of travel, compliance, game day administration, etc).
How I Got Here
Show
Graduate degree(s): Master's degree in Sports Studies.
Favorite class(es): Abnormal Psychology
Changing majors:
I changed from Pre-med to a Psychology major.
Moving from college to career:
Upon graduation I took an internship at a college athletic conference where I was involved in all aspects of their work (communications, tournament operations, event planning, website management, etc). I was then afforded an opportunity to be an assistant coach with my former college coach after my internship. Financially, I needed an additional job to supplement my income. My resume was passed throughout the community and I got two jobs on the campus where I was working as an assistant. I became a part-time manager of our fitness facility and the Assistant Director of Disability Services. I spent a year doing all three jobs, then dropped the manager job for a head club coaching position. I spent three years at this institution before I applied and was offered the Head Coaching job at Concordia. During the three years I spent as an assistant I was also working on a master's degree.
Career influences:
I always loved the game of soccer, but did not realize I could make a career out of it until my mentor allowed me the opportunity.
The Ups and Downs
Show
Pros: I get to be around soccer all day long. I am able to influence and teach young people. I love going to work everyday!

Cons: LONG HOURS, LOW PAY. I travel most weekends for games or recruiting, and potential student-athletes tend to visit campus on weekends when I am in town. So I work seven days a week most weeks during the school year. The job dictates where you go and where you'll live. Coaching jobs come open sporadically and you may have to sacrifice where you live for the job or vice versa.
Recommendations
Show
If you love it, make it work. You won't get your dream job right away but if you commit to it and are willing to do whatever it takes, you'll get to where you want to be.
Interested in this Career?
Show
Learn more about careers in: