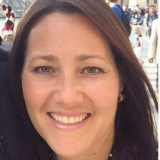 Software Engineer @
Applied Research Labs at The University of Texas
I write software for submarine and surface ship sonar systems. I create GUIs that are used by Navy sonar operators, and code some of the algorithms that are used to process and display sonar data. The software I work on runs on every submarine and surface ship in the US Navy fleet.
How I Got Here
Show
Graduate degree(s): MS in Computer Science. I was lucky enough to work for a company that paid for my master's degree, so I took evening classes after work and finished in 2 years (2 classes per semester, with summer semesters). Don't be afraid to go back to school while wor
Changing majors:
I actually started out in the Communications school. The second semester of my freshman year, I was looking for one additional class to take, something fun/interesting, just to fill my schedule, and I signed up for a programming class for non-comp-sci majors. I'd never programmed in my life and I really had no clue what programming even was. I ended up finding the class so interesting that I changed my major to Computer Science the next semester!
Moving from college to career:
I got my first job out of college through the on-campus interviews at UT. I interviewed with several different companies and chose to work on submarine sonar systems because it sounded the most exciting.
The Ups and Downs
Show
Pros: Getting to work on really cool stuff! Submarines and ships are pretty cool. I've also gotten to work on Unmanned Underwater Vehicles. The work environment is very laid-back and casual. We can wear jeans and flip-flops every day. And my coworkers are all really smart. It's inspiring to work with intelligent and driven people every day.

Cons: A lot of sitting in front of a computer screen. But, I am a software engineer - what did I expect?!
Recommendations
Show
I now know how important GPA is for getting interviews and getting a job. As a new college grad, you may not have much relevant work experience, so GPA is one of main factors interviewers use to base their decision. Try to get some internships during college as well! The experience you can gain from them is in many ways more valuable that coursework, plus it gives you a great advantage when applying for full-time jobs.
Interested in this Career?
Show
Learn more about careers in: