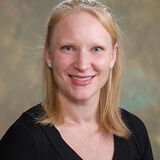 Physician Assistant @
Marshfield Clinic
I am a Physician Assistant in Urgent Care in a rural town in Northern Wisconsin. I have been in my current position and department for just over 10 years. I completed my bachelor's degree in Biology at St. Norbert College and my master's degree at Midwestern University in Downers Grove, IL. I was lucky enough to get into PA school right after college so I could keep my school vibe moving forward without pause!! I really enjoyed the majority of my rotations, but it was during my Emergency Room rotation that I was drawn to Urgent Care. Practicing acute medicine has always been more in my wheelhouse than managing chronic concerns such as diabetes, hypertension, etc. That is not to say that these acute and chronic issues never intersect, but I much prefer the former!
How I Got Here
Show
Graduate degree(s): Masters of Medical Science-Physician Assistant
Favorite class(es): Physiologic Psychology and Anatomy and Physiology
Changing majors:
I never changed majors but did switch my minor focus from Chemistry to Psychology. I was definitely more interested in the psychology classes and it seemed that more and more psychology classes were being required as part of the Physician Assistant programs I was applying to.
Moving from college to career:
As I mentioned, I started PA school right after college, so I didn't transition into my career until I was 24 years old. I still learn new things every day and it makes me realize how much I DIDN'T know when I got out of school. There is so much real world experience that you need to gather and retain that no matter how good your grades were or how well you can perform on tests, you just have to get out there and get started. This can be overwhelming, but it's also been comforting to me to know that I don't need to know or memorize everything to do my job. I can call on references or my colleagues when needed. It was also nice to start making some money so I could start paying back my student loans!!
Career influences:
My parents were huge influences in my career. When I was growing up, they were volunteer firefighters and first responders for our small town. The work they did was always fascinating to me and they were so great at helping people when they needed it most. The way their work was fulfilling not just for themselves, but for the people they helped, really impacted me.
The Ups and Downs
Show
My favorite thing about my career is seeing all types of patients--across the age spectrum, male and female, etc.--with all different types of acute concerns. I love getting to do procedures such as splinting, suturing, incising and draining wounds, etc. I also love that every single day of work over the last decade has been different from the last.
Another positive to my career, is that I could get out and get to caring for patients after my 27 month PA school program. I wanted to get married and start a family after school and didn't want to necessarily be in school, residency, internship, etc. for 8+ years as some medical school specialties require. In addition, as a PA, we are trained generally and can switch specialties if desired. We all have to take a general board certified exam every 10 years, but essentially if you wanted to work in pediatrics and then switch to surgery, urology, orthopedics, OB/GYN, etc., you could do so without having to go back to school and go through a residency. This flexibility was and is amazing to me!!
A few of the downsides of my job include not always getting to follow patients. If I see them in Urgent Care, I don't always get to follow up with them if I have referred them back to their primary care provider or a specialist. This way I don't always form the type of relationship with a patient that a primary care provider does. Another downside is that since we see patients on a walk-in basis, I don't have any control over my schedule. We might be 2-3 hours behind at one point and since patients don't schedule appointments, we can't really space them out to avoid getting clumped together with long wait times.
Recommendations
Show
Get as much patient care experience as possible!! This can be as a CNA, a volunteer at a health clinic, student athletic trainer while still in school, volunteer firefighter/first responder, hospital volunteer, etc. I was also lucky enough to take advantage of some experiences in my undergrad to go on service trips, including one that delivered food to shut-in patients, mainly suffering from HIV. PA school spots are limited, so if you can show that you really want to care for patients and get involved with your community outside of your coursework, I think this speaks more highly of your desire to become a health care worker than grades and standardized test scores.
In addition, shadowing Physician Assistants is a huge asset. It looks good on a resume, but even more importantly, it gives a first-hand look at how a PA operates, and if becoming a Physician Assistant is really what you want to be doing.
Interested in this Career?
Show
Learn more about careers in:

Check out these links: