Career Panel Playback: Hospitality, Events, and Tourism
Career Panel Playback: Hospitality, Events, and Tourism
Do you love to travel? Do you enjoy interacting with people from all over the world? Do you like to work on creative projects and see them through every step of the way? If so, a career in hospitality, events, or tourism may be a great fit for you! Last week, the Vick Center brought in five professionals with experience in managing hotels, organizing concert series, and planning luxury travel abroad to detail their paths from college to career. Read on for a quick summary of their experiences and advice, and keep up with the Vick Center for information on future panels and networking opportunities!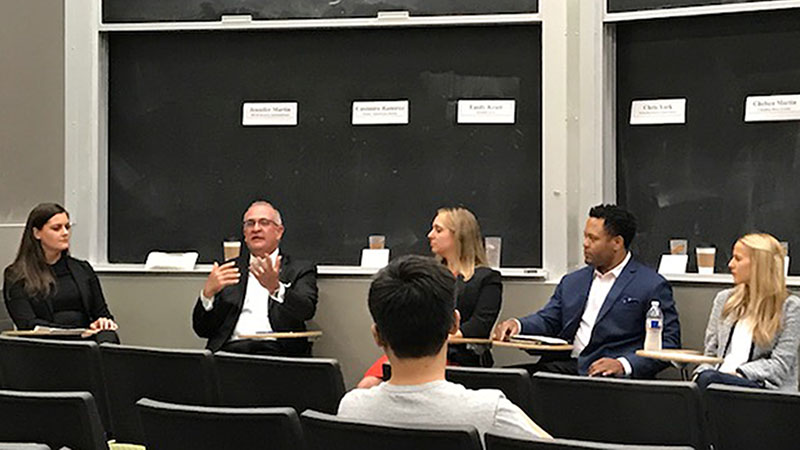 Most of the panelists did not pursue hospitality majors in college, either because they were pursuing different interests or because their college did not offer one. However, even if their major did not line up exactly with hospitality, the panelists highlighted ways in which their studies helped them in their careers in unexpected ways. Emily Kratt, Managing Director at INNOVATX Events, completed a degree in Interior Design, switching from her original major in Psychology. After taking an internship in the design field, and learning it was not for her, she discovered that she could apply her design skills to event planning, carrying over her creative talents and knack for pitching ideas. Casimiro Ramirez, Director of Sales at Fiesta Americana Hotels, studied to become a chef in Spain, but learned quickly that the job was not for him. He instead decided to work his way up in the hotel industry, starting as a bellhop and continuing to move up to the position he currently holds.
More than anything else, the panelists described the importance of experiences outside the classroom that were integral to their success. Chelsea Martin, an independent Travel Director and Event Manager (Chelsea Rose Events), took the initiative to join the industry organization SITE (Society for Incentive Travel Excellence) while in college, and set up informational meetings with people in the industry through LinkedIn to get her foot in the door. She credits her success in these ventures to building mutually beneficial, not one-sided, relationships with professionals in her desired field. Jennifer Martin, Director of Global Sales at MGM Resorts International, detailed the networking that took her from working as a cocktail waitress at the Driskill in downtown Austin as an undergrad to the hospitality, events and travel mecca of Las Vegas. She told the audience, "It doesn't matter where you're going, you always have a friend somewhere in hospitality," and that nurturing those friendships is the key to success in the industry.
While the panelists dazzled attendees with their travel schedules and job descriptions, they made sure to remind us that hospitality, events, and tourism are definitely unique fields, requiring ambitious and resourceful people. Kratt reminded the audience that the field is not always glamorous, relaying stories of waiting on loading docks at three in the morning while preparing for a day's event. However, Chris York, the Owner of RedGorilla Events and RedGorilla Music Festival, made sure to note that hospitality, events, and tourism employ the "nicest people of any industry." This final thought rang true as panelists invited attendees up afterward to network and ask personal questions of the panelists.
For more information on hospitality, events, and tourism industries and how you can explore your career options, schedule an appointment with a career counselor at the Vick Center.